Friday, March 02, 2007
Commitment to Loveliness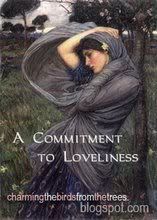 Here are my goals for this weekend:
1) Have a nice, soothing soak in the tub.
2) Do both my hair and make-up on Sunday.
3) Sit down each day with a cup of tea and write a "real" letter to friends.
4) Work on a lovely little dress for our lovely little daughter.
5) Clear the dining room table of clutter and arrange it nicely.
Labels: A Commitment to Loveliness
posted at
11:37 AM
0 comments