Tuesday, March 06, 2007
This week's "Commitment to Loveliness"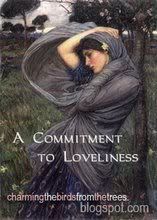 Well, I only did one thing on my list for the weekend - have a nice soothing bath. It was a fairly hectic weekend though with family arriving from out of town for my sister's wedding and planning and throwing a bridal shower as well.
I was planning on sewing a dress for little Riley but Dwayne picked a gorgeous dress out for her when he was in Edmonton picking up the my grandparents and my other sister and her husband.
My sister's wedding is this coming Saturday so I am going to keep it really simple this time around!

1) Get my legs in tip top shape for wearing a bridesmaid's dress on Saturday. Lots of moisturizing and exfoliating and leg lifts!

2) Get my hair cut and coloured professionally and have my eyebrows groomed.

3) Clear my dining room table of paperwork and odds and ends and set it prettily.

4) Wash the walls in our entranceway and make the space more welcoming.

5) Repot plants that are now too large for their pots and redisperse through the apartment.
Labels: A Commitment to Loveliness
posted at
12:49 AM
1 comments