Monday, April 09, 2007
Favourite Things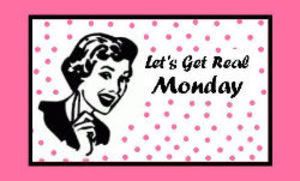 It's time for "Let's Get Real Monday" with Randi over at
i have to say...
This time the topic is "My Favorite Things". Zip over to her blog and check in on everyone's favorites and add your own!
Here is a somewhat random, somewhat organized list of some of my favourites...
cuddling with my husband
snuggling with my sleeping children
playing and talking with my kids
goofing around with my sisters
being able to see my parents anytime
Bare feet
If I have to wear socks, cotton thigh highs in funky colours
wild strawberries
sticky date pudding (you Australian ladies know what I'm talking about!)
real macaroni and cheese
caribou steaks
pineapple
milk
Coke
caramel macchiatos from Starbucks (***let's just say it's a good thing that I live 15 hours drive from the closest one***)
my Bible from high school
Jane Austen books
Ellis Peters books (Brother Cadfael)
Decorating magazines
vintage clothes
vintage patterns
thrifting
sewing
baking
needlework
housework (really!)
rearranging furniture
Irish wolfhounds
bunnies
chickens
running
hiking
writing and receiving "real" letters
finding lost friends on Facebook
checking Bloglines for new posts from the blogs I visit regularly!
Labels: Let's Get Real Mondays
posted at
1:43 AM
13 comments